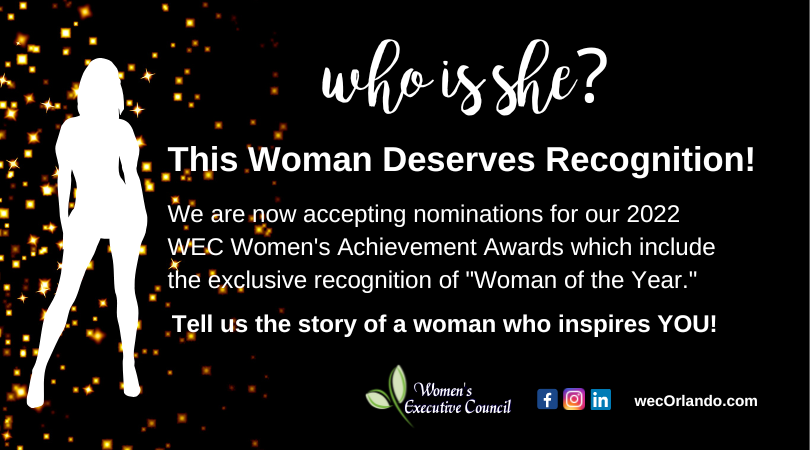 50th Annual Women's Achievement Awards Recognition: Thursday, October 13, 2022 at 6pm.
Each year, the Women's Executive Council of Orlando recognizes outstanding women who work or volunteer in Central Florida. We honored and recognized these women who work tirelessly behind the scenes, contributing unselfishly to the vitality and richness of our community. Embracing women through these awards in their fields of expertise is a small token of gratitude for serving Central Florida.
In 2022, the world, as well as our local community, has continued to face challenges and adversity like never before. Women around Central Florida have worked tirelessly to meet the needs of their families, their careers, their communities, and their own self-care. We want to recognize these women who continue to demonstrate their unwavering commitment against all odds. These are women who have risen to the occasion, who found the positive in the despair, who showed compassion and kindness, and who took action to make a difference in our community.
Please complete the following form to nominate a woman for this year's prestigious awards.
We look forward to reviewing all the nominations. If you have any questions about your nomination, please email [email protected]

Nomination Deadline: SUNDAY, September 25, 2022 at 11:59 PM EST
The selected honoree will be notified the week of September 26, 2022.
Email [email protected] for more information.
OPTIONAL: Additional information is encouraged, but not required, such as resume, CV, and other supporting documentation that may inform our decision are strongly encouraged as the selection process is competitive. Please place nominee's first and last name, attachment in the Subject field of the email. Example: Jane Doe, Headshot, Biography.
Please include as attachments or email to

[email protected]