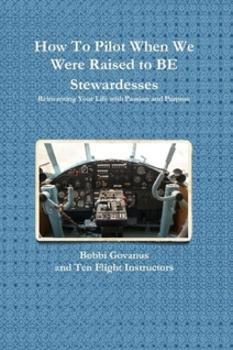 HOW TO PILOT WHEN WE WERE RAISED TO BE STEWARDESSES
Bobbi Govanus, 2016 & 2017 Term President and ten of her friends co-authored this amazing book. This book brings you tips and techniques for overcoming stereotypes and discovering your purpose and passion. Each of their stories will give you new insights into tracking life's toughest challenges: abuse, bankruptcy, corruption and death to name a few of the situations the authors have had to face. Their experiences and suggestions will encourage you to find and make your own way. They have been able to pilot even though they were raised to be stewardesses.

All proceeds from this book will be donated to the Women's Executive Council's Scholarship and Endowment Fund for women who are returning to school.

Contributing Authors: Barbara Abramson, Theresa Campbell, Wendy Cassera, Gina Trimarco Cligrow, Toni Crabtree, Colleen Ann Galli, Bobbi Govanus, Dr. Loretta Faith Harris, Dr. GeGe Jasmin, Lisa Marie Jenkins, and Linda Meeuwenberg.