Luncheon & Guest Speaker
Tuesday, June 13, 2023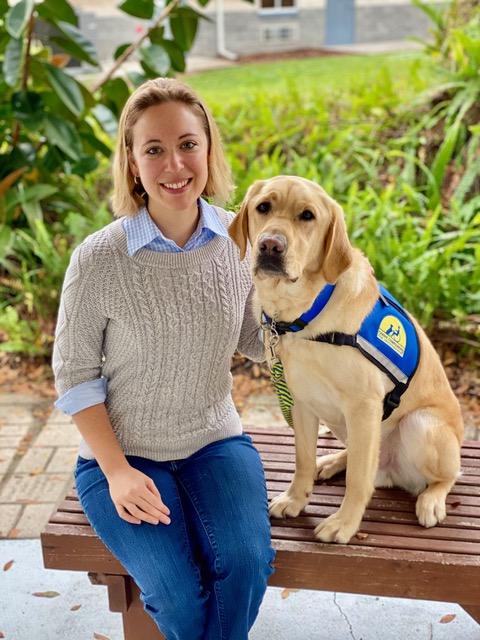 Diana Adams
After graduating from Pennsylvania State University with a degree in Elementary Education, Diana moved to Florida and taught elementary students for 7 years where she earned numerous awards, notably including an Elementary Social Studies Teacher of the Year award for the state of Florida. Currently, in the process of earning her doctorate in Public Administration, Diana is a lifelong learner and enjoys new opportunities. Concerns about her physically-demanding schedule when moving out on her own combined with her desire to be independent led her to apply for a service dog through Canine Companions, and now she and Opus are inseparable. Her disability (cerebral palsy) mostly affects her mobility and while she tries to be as independent as possible when out in public, by the end of the day, her legs and feet can be wiped out so she will use a wheelchair at home. Having Opus to get things off the floor, pull the laundry basket from one room to another, and even get the fridge door open helps her to be independent. He has also encouraged her to become less self-conscious about her disability and be an advocate for accessibility and others with disabilities.
Diana is working to make a positive difference in her community, and no matter what role she's in, Opus is working right by her side. She currently serves as Executive Director of Brevard Heart Foundation, Community Engagement Coordinator for Rock Paper Simple (a marketing company she and her husband own), and serves on the West Melbourne City Council.
Join us for our Tuesday, June 13, 2023, luncheon by clicking the "Register Now!" button.

11:30 am (Networking) | 12 pm - 1 pm (Program)
Citrus Club, 255 N Orange Avenue, 18th Floor.
---
Council Luncheons
Women's Executive Council monthly Luncheon Meetings are for members and open to guests.
The payment method is required in advance with a valid credit card to secure your reservation and meal selection.
Lunch Meeting is $40.00 for all Members and Guests before the deadline of NOON on Friday prior to the Tuesday Luncheon.
Based on the recent luncheon rate increase, there will be no late fee for guests and members who reserve after the deadline, we just appreciate knowing the number of confirmed attendees as soon as possible to notify the Citrus Club.

All luncheon reservations are final. No-shows will be invoiced.

​Seating is LIMITED to reservations. Late reservations and those who arrive without a reservation, will be placed on a standby list to see if we are able to offer you a seat.
Citrus Club Parking
GUESTS: Parking options are streetside with meters and in the Citrus Club parking garage for $3.00 / hour
WEC MEMBERS ONLY: Your fee includes your lunch and two (2) hours of complimentary parking. Additional parking time is paid for by the member.
---
2023 Guest Speakers
Women's Executive Council monthly Luncheon Meetings are for members and open to guests.
January 2023 - Dr. Iline Wilkins, UCP of Central Florida

February 8, 2023 - Donna Haynes

March 14, 2023 - Diane Diaz

April 11, 2023 - Cathy Rodgers, Pet Alliance of Greater Orlando
May 9, 2023 - Jen Seppi, Dr. Phillip Centerorlan
June 13, 2023 - Canine Companions
July 11, 2023 - Shyanne Staub, Ronald McDonald House

August 8, 2023 -

Casandra Matej, President & CEO, Visit Orlando
September 12, 2023 - OPEN
October 12, 2023 - Women's Achievement Awards
November 8, 2023 - Business Meeting / Elections
2022 Guest Speakers
Ali Manion, 2022-2023 Walt Disney World Ambassador
Jana & Jason Shelfer, Living Lucky
Scott Randolph, Orange County Tax Collector
Stephanie Bowman from One Heart for Women and Children, Carolyn Kreuzpaintner & Ellen O'Connor from Dave's House
Scott Howat, OCPS
Quibulah Graham, Orlando Health
LaSonia Landry, American Heart Association
Pauline Eaton, Orlando Main Streets
October 13, 2022 - Women's Achievement Awards

November 15, 2022 - WEC 2022 - 2023 Elections

December 8, 2022 - WEC Holiday Party
2021 Guest Speakers
2020 Guest Speakers
Mayor Buddy Dyer | City of Orlando

Mary Pigatti | Chief Executive Officer | eMindful

WEC Panel Discussion

Catherine A Ni, Director, Advanced Rotary Wing & Ground Systems | Lockheed Martin - Missiles & Fire Control

Pamela Landwirth, Chief Financial Officer | Give Kids the World

LaVon Bracy, EdD, Advocate for Social Justice & CoFounder | New Covenant Baptist Church of Orlando

Romie Mushtaq, MD, ABIHM, Chief Wellness Officer | Evolution Hospitality